I wanted to share this fabulous Mary Poppins blogger party! In September, there was a giveaway where 10 blog readers and their guests were invited to attend a fun party, hosted by 11 other Utah bloggers. Please enjoy browsing through the beautiful pictures of the event taken by Lyndsey at Lyndsey Fagerlund Photography.
The darling invitations were sent out to the guests.
Chalkboard art, daisies, cherries and, of course, Mary Poppins was the theme of our party!
Invitations and printables by Design Dazzle.
Welcome to Cherry Tree Lane!
A temporary party structure was made to hold all the umbrellas.
All the red gingham fabric and black and white polka dot fabric was donated by OnlineFabricStore.
Kite chair tieback with Mary Poppins sayings!
Black and white polka dot ribbon with daisies and wild flowers make for a cute napkin ring holder to secure the bright yellow napkins.
Large paper daisies, wild flowers, red mesh and ribbon create a darling tie back for the black polka dot fabric.
All the food was made by the blog team!
Appetizers, strawberry spinach salad and gourmet sandwiches – all looks delicious!
Love the mason jars and daisy cut lids!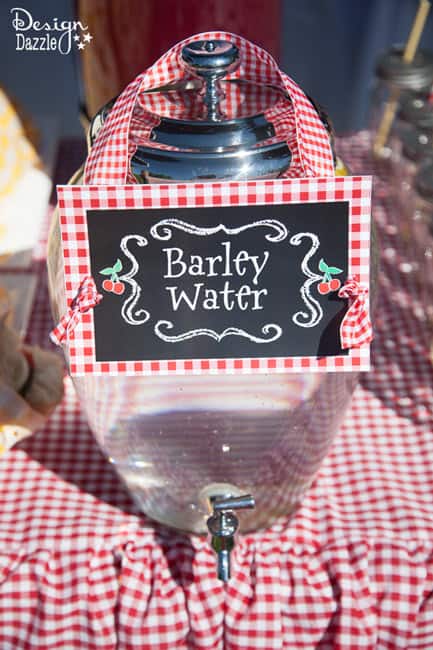 "And never smell of Barley water" lyrics from the song The Perfect Nanny.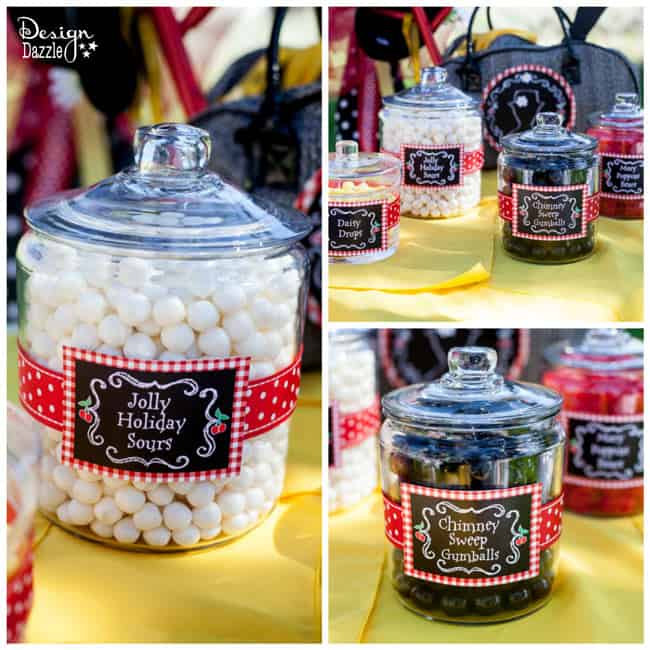 Loving the dessert table backdrop and all the desserts!
A spoonful of sugar helps the medicine go down!
Red glitter cake pops!!
Super amazing cookies!! Can you believe the art on these?
Makes you almost not want to eat them!
Love the talented skills of these fondant makers!
Each guest was given a favor bag filled with AMAZING gift swag from all our sponsors.
All the guests and bloggers received a Mary Poppins Necklace.
source: dazzledesign.com